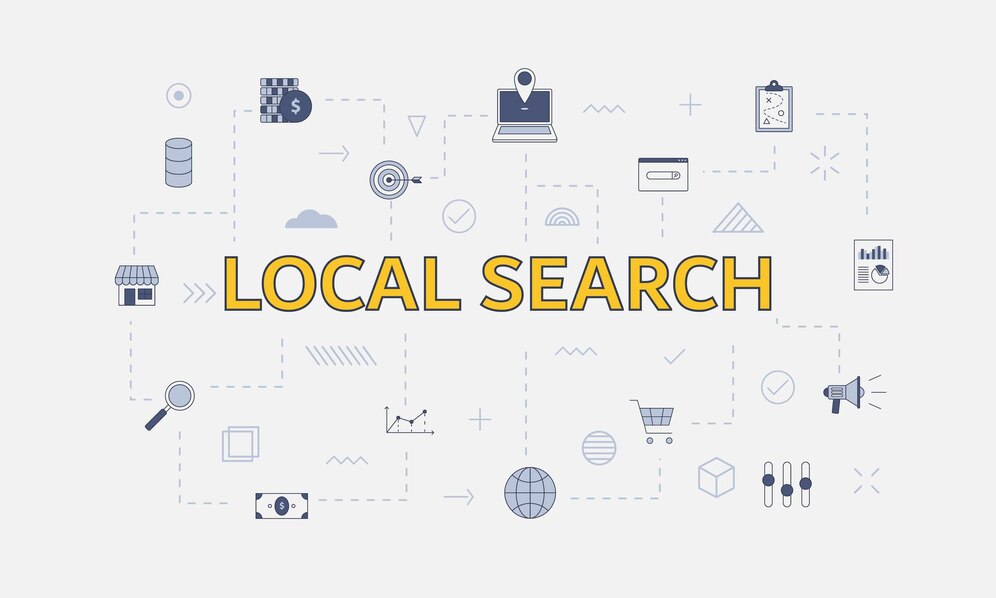 Introduction
Definition of Local SEO
It is in your best interest as a business owner to optimize your internet presence so that potential clients can readily locate your goods and services. This is where local SEO comes in. In order to increase your business's visibility in local search results when potential customers are looking for a company like yours, you need to implement local search engine optimization (SEO).
Why Local SEO is Important for Businesses
Google reports that over 80% of consumers use search engines to look up locally relevant information including store hours, directions, and contact details. Also, more than half of those who do a local search on their smartphone go to the location within 24 hours. Enhancing your company's exposure in local search can attract more customers to your storefront.
Keyword Research
Keyword research is the foundation of every effective local SEO campaign. Customers in your neighborhood looking for a business like yours may never find you if you don't do keyword research. Here, we'll discuss how to zero in on the best keywords for a localized campaign, as well as how to assess the level of competition in that space.
How to Identify the Most Relevant Keywords for Your Local Business
Starting with a list of terms and phrases that people might use to find your products or services is a good place to start when trying to determine which keywords are most relevant for your local business. If you run a cafe in Seattle, you might target customers looking for "best coffee in Islamabad" or "coffee shop Islamabad" by using such phrases as keywords.
You can find out how popular and how difficult each keyword is to rank for by using keyword research tools after you've compiled a list of possibilities. One well-liked free resource for this is Google's own Keyword Planner. You can enter your keywords and get information about how often they are searched for and how much competition there is for those keywords.
How to Analyze the Competition for Those Keywords
After settling on a set of keywords to optimize for, you should investigate the level of competition in that space. This can help you determine whether or not it's worth your time and effort to target certain keywords and how competitive they are.
With a service like Ahrefs or SEMrush, you can check which websites are currently ranking highest for your target keywords, allowing you to better understand the competition. Consider their domain authority, page authority, and backlink profile to estimate how challenging it will be to outrank them.
On-Page Optimization
Local search engine optimization depends heavily on on-page optimization. Local SEO is the process of enhancing a website's visibility in local search engine results by using targeted keywords and other information. Here, you'll learn about local search optimization, or LSEO, as well as local keyword tactics and why your NAP (name, address, and phone number) should be prominently displayed on your website.
How to Optimize Your Website's Content for Local Search
First and foremost, you need to make sure that the content of your website is optimized for local search. This entails including geo-targeted keywords and geographic information on your website's pages such as the home page, about us page, and product/service pages.
Identifying the most useful local keywords for your business is the first step in optimizing your website's content for local search. After that, work those terms into your site's meta tags, headlines, and body copy for maximum SEO effect.
Strategies for incorporating Local Keywords into your Website's Meta Tags, Headings, and Content:
Local keywords can be integrated into your website's meta tags, headings, and content in a number of different ways.
Title Tags:

Make sure your website's title tags contain your target keywords and geographic location. You may use the title tag "Best Restaurant in NYC – Your Restaurant Name," for instance, if you own a restaurant in New York City.

Heading Tags:

(H1, H2, H3) to categorize your material and highlight your target keywords and geographic area.

Content:

Use your target keywords and location in the text of your website in a natural way without overdoing it. The average keyword density you should consider is around 1-2%.
Importance of including your NAP (Name, Address, and Phone Number) Information on your Website
NAP information (name, address, and phone number) should be prominently displayed with local keywords in your website's content. Your website and other online directories, such as Google My Business and Yelp, should have the same information.
If you want clients to be able to discover you online, you need to make sure that search engines can as well. Putting your NAP information on your website can do just that.
Google My Business Optimization
Google My Business (GMB) is a free service from Google that helps local companies improve their visibility in Google's various products including Search and Maps. Here, you'll find information on claiming and verifying your Google My Business listing, optimizing your GMB profile for local search, and controlling and responding to Google reviews.
How to Claim and Verify Your Google My Business Listing
Claiming and verifying your listing is the first step to improving your GMB profile. Proceed to Google My Business and log in using your Google credentials to claim your listing. Afterward, you'll need to go through the processes to validate your listing via snail mail, phone, email, or an instantaneous verification system.
Once you've claimed and validated your listing, you can start making changes to boost your profile's appearance in relevant local results.
How to Optimize Your Google My Business Profile for Local Search
If you want your Google My Business profile to show up higher in local search results, it's important to fill out all of the essential fields and include as much relevant information as possible. Some examples are:
Name, Address, and Contact Information (NAP):

Verify that your NAP details are correct and in line with those listed on your website and other directories.

Choose the best

"Business Category"

for your company so that Google can better comprehend the nature of the operation.

A short but

useful description

of your company that highlights relevant keywords and your physical location.

Images

and VideoCreate a gallery of high-quality images and videos that highlight your company's offerings.

Reviews:

In order to rise higher in local search results, it is important to encourage customers to post reviews on your GMB page.
Tips for Managing and Responding to Customer Reviews on Google
Your Google My Business presence isn't complete without testimonials from satisfied customers. Here are some suggestions for handling Google reviews and interacting with customers:
Always

keep an eye on what others are saying

about you online, and don't hesitate to address any complaints quickly.

You may show that you

care about your consumers

and are dedicated to doing right by them by responding to both positive and negative feedback left on review sites.

Responding tactfully to criticisms:

Respond to unfavorable feedback with professionalism and courtesy, and offer to address the customer's problems.

Expressing gratitude to consumers

who have left excellent feedback is a great way to demonstrate your appreciation for their patronage.
Conclusion
Keyword research, on-page optimization, and Google My Business optimization are just a few of the local SEO tactics we've discussed in this post.
One of the most important things you can do for your company's bottom line is to implement a thorough local SEO plan so that it can be found online and attract more clients. You may improve your chances of showing up in local search results and connecting with a wider audience in your area by using the advice in this post.
Thus, immediately initiate local search engine optimization on your website. Don't attempt it alone if you have no idea how to start optimizing your website for search engines; hire an SEO agency or expert instead.